Welcome to all pilots.
You want to visit France from the sky, flying yourself an aircraft ? Then this site is for you. You'll find advice and practical information. You'll know what to expect, before you set off. Of course, to get the latest and most accurate information regarding regulations you should refer to the French AIP. This site is meant for general aviation pilot flying light aircraft: planes, gliders, helicopters, paragliders and microlights....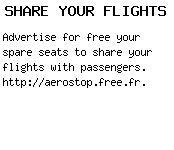 Feel free to tell me what you think about this page, what should be improved, which information you wanted and didn't find... Send me stories about your flights in France, I'll add them to this site. Don't be shy as others will benefit from your experiences.
You know where you want to go (in France) but don't know which are the nearest airports ? Get the answer HERE !
Don't hesitate to come and fly in France, it'll certainly be a great experience.
Thierry, PPL.
PS : I've discovered several commercial websites using "my" denomination "flyinfrance" in their URL. I have no link whatsoever with them.
If you like this website support it on social medias (left hand column) or add a link towards this page in your own website.
First review in 2003. Not the least : Pilot, the UK magazine. "Very informative, clear and easy to use... deserves to be successful" they say. Not bad, huh?
© flyinfrance.free.fr 2003 - 2019 for the whole content of this site.
Last update of this site on May the 20th 2019
Order your France 2019 1/500,000 ICAO charts here